We believe at Delegate that the power of one is expanded by the strengths of many. Our mission is to help you do more of what you love to have an even stronger impact on the world.
Each month in addition to our team-wide contribution to our selected charity, we select one team member and support their favorite charity through donation and promotion.
Team Member Cathy's Charity of Choice: The Sierra Therapeutic Equestrian Program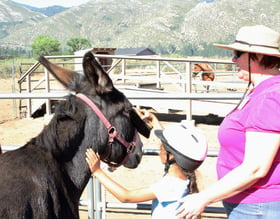 " There are a lot of reasons my family is involved with STEP. This particular program has been in the area for over 15 years but recently has decided to grow it's volunteer base and fundraising efforts to provide more scholarships to local students and veterans.
Every Monday this past summer, my husband and I, along with 4 of our children drove out to STEP's facility and engaged with students who are struggling with physical, mental or emotional disabilities. Therapy riding provides benefits such as improvement in balance and coordination as well as concentration and problem solving skills.
Clients begin the first week by learning about the equines, their temperament, anatomy and basic grooming techniques. They then progress each week to learning how to saddle, mount and dismount, proper riding posture, simple commands and guiding their equine through that week's course. For every rider, there are two sidewalkers who care for the rider and a lead who cares for the equine. The class is led by a certified program instructor.
The bond between rider and equine is unique. There is a lot of trust that is needed, both between rider and horse and between rider and volunteers. Making that connection is where most of the learning takes place, things like patience, courage, teamwork, nurturing and self-confidence.
As our volunteer experience grew, so did our relationships. We connected with each other and with new friends, both human and animal! STEP's new goal is to raise funds for an indoor arena so that we can run programs year-round and reach even more people in our community who would benefit from therapeutic riding

.

"

- Cathy
A bit more about this awesome charity:
The Sierra The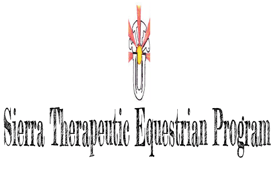 rapeutic Equestrian Program, Inc. (STEP, Inc.)
is a non-profit organization dedicated to assisting individuals in their local community who are dealing with physical, mental, emotional or educational special needs.
By providing therapeutic riding services to those with both special needs and able bodies, ages 4 to 104, STEP strives to enhance the lives of all individuals. Founded in 1997 and continues to provide excellent and affordable services.