We believe at Delegate that the power of one is expanded by the strengths of many. Our mission is to help you do more of what you love to have an even stronger impact on the world. Each quarter in addition to our team-wide contribution to our selected charity, we select one team member and support their favorite charity through donation and promotion.
Team Member Rebecca's Charity of Choice: Vigilant Hope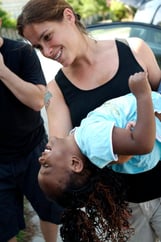 "It has been very rewarding for my family to be involved in outreach efforts through Vigilant Hope since we moved to Wilmington, NC in 2009. Vigilant Hope also offers opportunities for volunteers to participate in programs like the Poverty Simulation and hosts regular Forums on Engaging the Homeless Population in Wilmington.

It has always been important to my husband and I that we raise our children with hearts to give and serve. Having them truly engaged relationally with those in need through Vigilant Hope has taught them that charity is as much about giving of ourselves and our time as it is about being financially generous."- Rebecca



A bit more about this awesome charity:

Vigilant Hope Outreach Programs are specially designed to connect volunteers with those in need through relational outreach. Through efforts like Walking Together meals, the Shower Trailer, and the Port City Project, (to name just a few!), Vigilant Hope is giving renewed hope to our friends in need, and allowing its volunteers to give back to the community in a meaningful and relational way.

Vigilant Hope Urban Missionaries are on the front lines battling poverty. They are actively serving in low-income communities, homeless camps and shelters in the greater Wilmington area. They invest time and resources into those in need. Through intentional relational efforts, their urban missionaries empower and encourage those they are blessed to meet.

Learn more here.
Would you like to donate to Vigilant Hope?
Donate Now