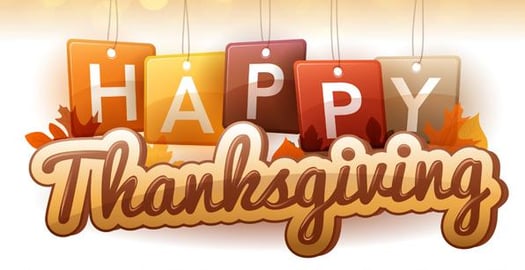 Isn't Thanksgiving the richest holiday? Whether you're on your way to your own Thanksgiving destination right now, or stuck in the office closing out the week,
we invite you to connect with our team at our virtual Thanksgiving Table HERE!
Get to know our vibrant group as they share what they are bringing to dinner along with photos of family this Thanksgiving! We and our families are so grateful for YOU this holiday season.
Sending you warm wishes of gratitude on this wonderful holiday!

* DELEGATE TEAM RECIPES *
ILENE'S CHEESY POTATO CASSEROLE RECIPE
Baking Instructions:
-Preheat oven to 350 degrees
-Combine hash browns, mushroom soup, melted butter, sour cream, chopped onion, garlic, salt, pepper, and 2 cups of grated cheddar cheese in a large bowl, reserving one cup of cheddar cheese.
-Place the mixture in a greased 9x13 baking dish. Top with the remaining cup of cheddar cheese.
-Bake uncovered for 45-60 minutes or until hot and bubbly.

Ingredients:
- 32 oz frozen shredded hashbrowns
- 1 10oz can cream of mushroom soup
- 1/4 cup salted butter, melted
- 1 1/2 cups sour cream
- 1 finely minced onion
- 1/2 tsp minced garlic
- 1/2 tsp salt
- 1/4 tsp pepper
- 3 cups grated cheddar cheese
- chopped green onion optional garnish
PAIGE'S MISSISSIPPI DRESSING
1 large pan or 3- 9x13 pans
4 skinless breasts
3 or 4 chicken broth containers
12 eggs
1/2 cup of celery
salt, pepper, and sage

-Bake two skillets of cornbread
-Boil skinless breasts
-Boil 12 eggs but use 3 - 4 chopped in dressing other for deviled eggs.
-Chop 1/2 cup of celery

I usually prep all that the night before. Day of I mix cornbread leaving some small chunks add a sleeve of saltines crushed & two pieces of bread torn together then generously add salt/ pepper/ sage. I add chopped veggies & chopped eggs then add more sage. I chop chicken into smaller than bite size pieces & add then stir in broth a bit at a time (you want the dressing to be slightly loose but not soupy). I taste for all the flavors then cover & bake @375 for 45 mins or more. You can use 3 9x13 pans or one large for this.
JOHN'S BANANA PUDDING
Milk and pudding mix:

This easy banana pudding recipe starts with vanilla pudding mix dissolved in cold milk.

Sweetened condensed milk:

Like so many of the most delicious desserts, this banana pudding contains a can of sweetened condensed milk.

Vanilla:

Vanilla extract enhances the flavor of the banana pudding.

Frozen whipped topping:

Fold frozen whipped topping (such as Cool Whip) into the pudding mixture for a rich, fluffy texture.

Vanilla wafers:

Vanilla wafers add more flavor and welcome crunch.

Bananas:

Of course, you'll need bananas! Slice them up just before you assemble the pudding.


EMILY'S ROASTED RED PEPPER SAUCE
Ingredients:
2-3 red bell peppers

1 yellow onion

4 cloves of garlic

2T olive oil

½ c white wine, dry is preferred

¼ tsp: sage, rosemary, thyme, oregano

Crushed red pepper, salt, and pepper, to taste

½c heavy cream

½c veg stock

Pasta of choice

Protein of choice - we have added ground hot sausage, sliced grilled chicken, and meatballs in the past
Instructions
Preheat oven to 450 degrees

Chop bell peppers and onion into large quarters and put in a glass baking dish

Add garlic cloves and seasonings, salt and pepper to taste

Drizzle the olive oil and white wine over the vegetables

Bake for 30 minutes uncovered, or until skin is tender

Take the pan out of the oven and cover with foil for 10 min to steam

Cook pasta while vegetables are steaming

In a food processor, add everything from the pan including juices and blend on high for 60 seconds. Add veg stock, blend for 30 seconds. Slowly add heavy cream to meet desired consistency.

Pour over pasta and top with parmesan cheese and parsley
Optional heat kick: 1T of calabrian chili peppers, added to the baking dish when roasting
EILEEN'S SOURDOUGH BREAD STUFFING
Ingredients:
1-pound loaf sourdough bread
10 ounces cremini mushrooms, sliced 1/2-inch thick in both directions
Salt and freshly ground pepper
2 to 4 stalks celery with leaves, halved lengthwise and sliced
About 10 sprigs fresh thyme, leaves stripped from the stems
10 to 12 fresh sage leaves, chopped
3 1/2 cup vegetable broth
3 tablespoons chopped Italian parsley leaves
Directions:
Preheat the oven to 350 degrees F. Grease a 2-quart baking dish and set aside.

Cut or tear the bread into 1-inch cubes and spread it evenly on 2 baking sheets. Toast the bread in the oven until completely dry and beginning to crisp and brown, about 20 minutes. Transfer to a large mixing bowl.

Melt 2 tablespoons of the butter in a large skillet over medium-high heat. Add the mushrooms and a few pinches of salt and saute, stirring occasionally, until golden brown, about 6 to 8 minutes. Add celery, onion, 2 tablespoons butter, and thyme. Once the butter has melted, cook, stirring frequently, until the vegetables have softened, about 5 minutes. Add sage and remaining 4 tablespoons butter. Add vegetable broth to skillet and stir to combine. Season with salt and pepper, to taste.

Transfer toasted bread cubes to a large bowl. Pour the broth mixture over the bread cubes and toss to combine until the bread cubes absorb the liquid. Pour the mixture into the greased baking dish, and sprinkle with parsley. Bake in the center of the oven until heated through and the top is golden brown, about 40 minutes. Remove the stuffing from the oven and allow to cool about 15 minutes before serving.
ASHTON'S CHOCOLATE LASAGNA (Amber's recipe)
Ingredients

- 36 Oreo cookies 1 package regular cookies (do not remove cream centers)
- 6 Tablespoons butter melted
- 8 ounces cream cheese room temp
- 1/4 cup granulated sugar
- 2 tablespoons milk 1%
- 16 ounces Cool Whip non-fat, 2 (8-oz) containers, separated
- 7.8 ounces instant chocolate pudding 2 (3.9 oz) boxes UNPREPARED
- 2 3/4 cups milk 1%
- 3/4 cup miniature chocolate chips
Instructions
-Use a zip top bag and a rolling pin) to crush the Oreos into fine crumbs.
-Into a medium bowl, pour in the cookie crumbs and melted butter. Stir until thoroughly mixed.
-Pour into a 9 x 13 baking dish and use a spatula (or the bottom of a measuring cup) to evenly press the crumbs across the dish.
-In the same medium bowl, add the cream cheese and beat with a hand mixer until fluffy. Add in the 2 Tablespoons of milk and sugar and mix well.
-Fold the contents of one of the 8 oz Cool Whip containers into the cream cheese mixture.
-Spread the cream cheese mixture over the cookie crust and pop it into the fridge to set for about 10 minutes.
-While it's setting, to a large bowl, add the pudding mixes and 2 3/4 cups milk and beat on medium until it starts to thicken.
-Spread the pudding mixture over the cream cheese layer. Put back into the fridge to set for another 10 minutes.
-Once set, gently spread the remaining 8 oz of Cool Whip over the top and sprinkle with mini chocolate chips.
-Cover with plastic wrap and let chill for at least 4 hours in the fridge or 1 hour in the freezer before you slice.
CATHY'S APPLE, SAUSAGE, AND HERB STUFFING
Ingredients
1 lb sausage (Jimmy Dean Regular or Spicy)

1 medium yellow, white or sweet onion chopped about 2 cups

2-3 stalks celery chopped about 1 1/2 -2 cups

salt and fresh ground pepper to taste

1 clove fresh garlic, minced or 1/2 teaspoon garlic powder

Fresh sage or 2-3 tablespoons dry sage about 5 large leaves chopped or about 3-4 tablespoons

2 tablespoons poultry seasoning

8-10 cups dried bread cubes homemade or store bought without seasoning

½ 14 oz bag "Herb Seasoned Classic Stuffing" (Pepperidge Farm) OPTIONAL, If not using this ingredient, add additional 2 cups of dried bread cubes or crumbled dry bread*

3/4 cup butter, melted

1 apple cored, chopped (I usually use a Gala) peel left on

2-3 cans chicken broth MSG free about 4-5 cups
Instructions


- Cook the sausage, breaking up into pieces as the sausage is cooking. Drain the fat from sausage.
- Add chopped onion and celery to the pan. Cook until softened over medium heat.
- Season with salt, pepper and one clove of fresh minced garlic, sage (fresh or dry) and poultry seasoning. Remove from heat.
- In a large bowl or container, pour in bread cubes, Pepperidge farm mix (if using) cooked sausage and vegetable mixture.
- Drizzle melted butter over bread and vegetable mixture. As you pour, make sure the butter is drizzled over most of the bread, not only in one spot.
- Add chopped apples to mixture and toss all ingredients together.
- Pour chicken broth, about a cup at a time until moistened but not soggy over mixture in bowl. Making sure to evenly distribute and not pour in one spot.
- Toss again. The broth will take a minute to be absorbed into the bread. At this point, the stuffing should be slightly wet or damp, and all of the broth absorbed by the bread. If the mixture appears to be dry, add more broth, about 1/2 cup at a time and toss.
- Place stuffing into a large greased baking pan (or two 9x13 pans).
- Cover with foil that has been greased on one side (side facing stuffing).
- Bake at 350 for approximately 30 to 40 minutes. When finished baking, if stuffing seems dry, add a little more chicken broth by drizzling over the top of the casserole dish. Replace foil top until ready to serve.
NICHOLE'S MASHED BUTTERNUT SQUASH
Ingredients
salt and pepper, to taste

1/4 cup melted butter, or ghee (you can omit)

1 tablespoon olive oil

1 butternut squash



Directions


• Preheat your oven to 400 degrees Fahrenheit.
• Cut the squash in half. Using a sharp knife, cut off the ends by 1/4 to 1/2 inch, slice it in half lengthwise, and scoop out the seeds with a spoon.
• Brush olive oil onto the cut side of the squash. Use about 1 tablespoon of oil and brush evenly.
• Season with salt, pepper, and any other seasoning you'd like.
• Roast the halves. Place the squash cut side down on a baking sheet and roast for about 40-45 minutes. The cut edge should just start to caramelize.
• Take the butternut squash out of the oven and let it cool. Then scoop out the insides into a mixing bowl.
• Mash the butternut squash with a hand masher or electric beater.
• Then, pour the butter into the mixture and continue mixing until creamy. Season with salt and pepper.
• Scoop the mashed butternut squash into a bowl and garnish with rosemary or other herbs.

BRIANNA'S SMOKED GOUDA, CABBAGE & BACON
27 slices bacon

1 cup chopped onion (250 mL)

1 lb head of cabbage, (0.45 kg) coarsely chopped

1 tsp seasoning salt, OR to taste (5 mL)

1/2 tsp black pepper (2 mL)

2 tbsp chopped flat-leaf parsley (40 mL)

2/3 cup grated smoked Gouda cheese (150 mL)

Preheat oven to 350°F (180°C).

In large nonstick skillet, cook bacon over medium heat. Cover with lid until underside of bacon is cooked. Turn off heat. When cooler, flip bacon and cook again over medium low heat until fairly crisp, but not overly. Reserve bacon fat. With kitchen scissors, cut bacon into small pieces. Set aside. In same skillet, sauté chopped onions in 1 tbsp (15 mL) bacon fat until soft and browned. Set aside.

In same skillet cook cabbage in 2 tbsp (30 mL) bacon fat until soft and becoming tender, about 8 minutes. Sprinkle with seasoning salt and black pepper and continue to cook until tender, another 5 minutes or so. Place cooked cabbage in 2-qt (2 L) shallow casserole dish. Cover with onions, bacon and parsley. Sprinkle Gouda cheese over the top. Place casserole dish in oven 20 minutes, or until Gouda has melted nicely.
KATHY'S ROASTED BRUSSELS SPROUTS WITH BALSAMIC VINEGAR & HONEY
It's hard to improve on simple roasted Brussels sprouts, but a drizzle of balsamic vinegar and a touch of honey brings the flavors to life.

Servings: 6
Total Time: 30 Minutes

INGREDIENTS
1½ pounds Brussels sprouts, halved, stems and ragged outer leaves removed*
3 tablespoons extra virgin olive oil
¾ teaspoon kosher salt
½ teaspoon freshly ground black pepper
1 tablespoon balsamic vinegar
1 teaspoon honey

INSTRUCTIONS
Preheat oven to 425°F and set an oven rack in the middle position. Line a baking sheet with heavy-duty aluminum foil.
Directly on the prepared baking sheet, toss the Brussels sprouts with 2 tablespoons of the oil, the salt, and the pepper. Roast, stirring once halfway through, until tender and golden brown, about 20 minutes.
Drizzle the remaining tablespoon of oil, the balsamic vinegar and the honey over the roasted Brussels sprouts. Toss to coat evenly. Taste and adjust seasoning, if necessary, then serve.
*If you have some brussels sprouts that are very large, cut them into quarters. They should all be cut about the same size to ensure even cooking.

GLUTEN-FREE ADAPTABLE NOTE
To the best of my knowledge, all of the ingredients used in this recipe are gluten-free or widely available in gluten-free versions. There is hidden gluten in many foods; if you're following a gluten-free diet or cooking for someone with gluten allergies, always read the labels of your ingredients to verify that they are gluten-free.

https://www.onceuponachef.com/recipes/roasted-brussels-sprouts.html#tabreviews
EMILY MORGAN'S HONEYCRISP APPLE SANGRIA
Ingredients:
3 cinnamon sticks (plus more for garnish)
2 honeycrisp apples, chopped
1 orange, thinly sliced
1 (750 ml) bottle red wine (I suggest a light-bodied Spanish variety)
1 and 3/4 cups homemade apple cider or store-bought1
1/2 cup brandy
1/4 cup orange juice (or juice from 2 medium oranges)
juice from 1 lemon
club soda, to taste
Directions:
Place the cinnamon sticks, apples, and orange slices in a large pitcher. Add wine, apple cider, brandy, orange juice, and lemon juice. Allow to sit in the refrigerator for 6 - 24 hours. Taste; if you'd like it to be sweeter, add 1-2 Tablespoons granulated sugar, honey, or agave.
If you'd like a cinnamon-sugar rim (highly recommended), simply moisten the rim of your glasses with water, turn the glass upside down and dip it into a mix of cinnamon and sugar. Pour in the sangria with fruit2 and add a splash of club soda (this unsweetened fizz is wonderful with the sangria!). Garnish with a cinnamon stick, if desired. Cheers!
Make ahead tip: Sangria is the perfect make-ahead cocktail since it must sit for at least 6 hours. You can also make it one day in advance.
https://sallysbakingaddiction.com/honeycrisp-apple-sangria/
GEORGIA'S ROSEMARY FOCACCIA STUFFING WITH PANCETTA
Ingredients:
1 stick unsalted butter, plus more for the baking dish
8 ounces pancetta, diced
1 onion, finely chopped
5 stalks celery, finely chopped
1/2 cup chopped sun-dried tomatoes (not oil-packed)
1 tablespoon chopped fresh sage
1 tablespoon chopped fresh thyme
Kosher salt and freshly ground pepper
4 cups low-sodium chicken or turkey broth
2 large eggs
1/2 cup chopped fresh parsley
6 cups 1/2 -inch stale rosemary focaccia cubes (about 10 ounces)
6 cups 1/2 -inch stale ciabatta bread cubes (about 10 ounces)
8 ounces fontina cheese, diced
2 tablespoons fat from the turkey drippings (or butter)
1/2 cup grated parmesan cheese (about 1 ounce)

Directions:
Preheat the oven to 375 degrees F and butter a 3-quart baking dish. Melt 2 tablespoons butter in a large skillet over medium heat. Add the pancetta and cook, stirring, until browned, about 6 minutes. Remove with a slotted spoon and transfer to a plate.
Melt the remaining 6 tablespoons butter in the skillet, then add the onion, celery, sun-dried tomatoes, sage, thyme, 1 teaspoon salt and a few grinds of pepper. Cook, stirring, until the vegetables are tender, about 5 minutes. Add the broth and bring to a boil, then remove from the heat.
Whisk the eggs and parsley in a large bowl. Add the focaccia, ciabatta, pancetta, vegetable-broth mixture and fontina; stir until combined. Transfer to the prepared baking dish. Drizzle with the turkey drippings (or dot with butter); sprinkle with the parmesan.
Cover the dish with foil and bake 30 minutes, then uncover and bake until golden, about 30 more minutes.
https://www.foodnetwork.com/recipes/food-network-kitchen/rosemary-focaccia-stuffing-with-pancetta-3364165
MACKENZIE'S GODFREY FAMILY MAC AND CHEESE-THE NOT SO SECRET RECIPE
Ingredients:
1 lb of elbow macaroni, cooked
1 lb or more of Colby cheese (good quality), thickly sliced
1 sleeve (or more) of Ritz crackers, crumbled
1/2 cup of milk
In 9x13 baking dish, crumble 5-10 crackers and spread them in the bottom of the pan. Then put a layer of cooked macaroni followed by a layer of Colby cheese. Repeat layers of crackers, noodles and cheese until all the ingredients are used. Finish with cracker crumbles on top. Slowly pour the milk over the top of the casserole, making sure to get it all over the top. Cover with foil and bake 30 minutes at 350 in the oven. Remove foil and bake an additional 10 minutes to let the top brown.
Note: Can be used as a main dish or as a side dish. Freezes well and is great leftovers. The more cheese the better in our house!
JOE'S MASHED SWEET POTATOES WITH BACON
Ingredients
3 pounds sweet potatoes (4 to 5 medium)
3 slices bacon, chopped
1 tablespoon bourbon or apple cider
1/2 cup heavy cream, warmed
6 tablespoons cold salted butter, cut into pieces
3 tablespoons maple syrup, plus more for drizzling
Kosher salt
Directions
1. Preheat the oven to 400 degrees F. Pierce the potatoes all over with a fork and place on a baking sheet. Bake until completely soft, about 45 minutes. Let cool slightly. Split the potatoes in half, scoop out the flesh into a medium bowl and set aside. Discard the skins.

2. Cook the bacon in a large saucepan over medium heat, stirring, until crisp, 8 to 9 minutes. Remove with a slotted spoon to a paper towel-lined plate. Add the bourbon or cider to the drippings in the saucepan and cook until mostly evaporated, about 30 seconds. Add the potatoes, heavy cream, butter, maple syrup and 1 1/2 teaspoons salt; mash with a potato masher until smooth and warmed through.

3. Transfer the potatoes to a bowl; top with the bacon and drizzle with more maple syrup before serving.
CHRIS'S GRANDMA OPLE'S APPLE PIE
1 recipe pastry for a 9 inch double crust pie
1/2 cup unsalted butter
3 tablespoons all-purpose flour
1/4 cup water
1/2 cup white sugar
1/2 cup packed brown sugar
8 Granny Smith apples - peeled, cored and sliced
Directions
1. Preheat oven to 425 degrees F (220 degrees C). Melt the butter in a saucepan. Stir in flour to form a paste. Add water, white sugar and brown sugar, and bring to a boil. Reduce temperature and let simmer.
2. Place the bottom crust in your pan. Fill with apples, mounded slightly. Cover with a lattice work crust. Gently pour the sugar and butter liquid over the crust. Pour slowly so that it does not run off.
3. Bake 15 minutes in the preheated oven. Reduce the temperature to 350 degrees F (175 degrees C). Continue baking for 35 to 45 minutes, until apples are soft.
ROBIN'S BROCCOLI CASSEROLE
2 - 10 oz packages frozen chopped broccoli
1 Tbsp. Chopped onions
2 Eggs, slightly beaten
1 can Cream of Mushroom Soup
1 cup Mayonnaise
1 cup grated sharp cheese
Crushed cheese crackers
Preheat oven to 350 degrees.
Cook broccoli in salted water for 5 minutes, then drain. Mix all other ingredients except for crackers. Stir in broccoli.
Pour contents into a shallow casserole dish and cover top with cracker crumbs.
Bake for 40-50 minutes.
LAUREN'S CRANBERRY SALAD
Stir together:
1 pound cranberries
1 orange peeled and seeded
1 unpeeled apple, core and dice apple (recommend Honeycrisp or Pink Lady)
1 rib celery diced
1 cup sugar

Prepare:
1 small box of Raspberry Jell-O
1.5 cups Hot Water
Pour over the Cranberry mixture
Let Jell-O and Cranberry salad mixture set, then stir to mix

TIFFANY'S GLUTEN FREE PUMPKIN MUFFINS
Ingredients:
3 large eggs
2 tablespoons molasses
1 15-ounce can pumpkin purée
1 3/4 cups gluten-free flour
1 cup granulated sugar
2 teaspoons baking powder
1/2 teaspoon xantham gum(or skip if your GF flour has it!)
1/2 teaspoon salt
2 teaspoons pumpkin pie spice
8 tablespoons unsalted butter, softened
(I add a cup of chocolate chips because why not!)

Instructions
Preheat the oven to 375°F. Grease a 12-cup muffin pan, or line the pan with papers, and grease the papers.

Whisk together the eggs, molasses, and pumpkin purée. Set aside.

Whisk together the gluten-free flour or brown rice flour blend, sugar, baking powder, xanthan gum, salt, and pumpkin pie spice.

Add the soft butter, mixing with an electric mixer until evenly crumbly. The mixture will look like coarse sand.

Add the egg mixture a bit at a time, beating well with an electric mixer after each addition. Beat for 1 to 2 minutes, until the mixture is fluffy.

Scoop the batter into the prepared pan, mounding the cups full. The batter will rise above the level of each cup; that's fine.

Let the muffins rest for 10 minutes.

Bake the muffins for 22 to 25 minutes, until the middle springs back when lightly touched. Remove from the oven and let rest for 5 minutes before removing from the pan. Best served warm.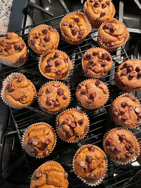 BECKY'S SOUTHERN HASHBROWN CASSEROLE
Base
*32 oz grated hashbrown
*8 oz Sour Cream
*1/2 cup of onion
*1 cup shredded cheddar cheese
*1 can cream of chicken soup
*1 stick of melted butter

Topping
*2 sleeves crushed Ritz crackers
*1 stick of melted butter

Mix together.....add topping
Bake @ 350 for 45 minutes
LEAH'S OLD FASHIONED SKILLET APPLE CRISP
This skillet apple crisp is an easier version of apple pie with only 15 minutes of prep time.

Prep time: 15 min
Cook Time: 35 min
Total time: 50 min

Ingredients
Apple Filling
4 large apples
1/4 cup sugar
1 tbsp cornstarch
1 tsp vanilla
1/2 tsp cinnamon
Crisp Topping
1 1/2 cups old fashioned oats
1/2 cup flour
1/2 cup butter melted
1/2 cup brown sugar
1 tsp cinnamon
1/4 tsp salt

Instructions
Preheat oven to 350 degrees and place a skillet (you can use a regular or cast iron skillet) on the stovetop over medium high heat.
Peel and slice your apples, then place them in a bowl and toss with sugar, vanilla, cinnamon and cornstarch.
Heat apples in hot skillet and cook for about 5 minutes until softened and sugar has dissolved.
In a separate medium-large bowl combine oats, flour, brown sugar, butter, remaining cinnamon and salt. Mix well.
Place oat mixture on top of apples in the skillet, or you can transfer the apples to a baking dish at this time if you prefer to make your crisp without the skillet. Press oat mixture down slightly to pack.
Cover your skillet or baking dish with aluminum foil and bake for 20 minutes with the foil, then remove the foil and bake for an additional 15-20 minutes.
Crisp is done when the top is golden brown and the apples are bubbling!
Can serve with vanilla ice cream, if desired, and enjoy warm!

DANA'S SPICY CRACKERS
Ingredients:
1 Box of saltine crackers
3 Tablespoons of dry Ranch dressing (the envelope)
1 teaspoon cayenne pepper
1 1/2 teaspoon of garlic powder
1 cup canola oil
Container with sealable lid.
Place crackers in the sealable container. In a separate bowl, whisk together canola oil, ranch seasoning, cayenne pepper, and garlic powder. Drizzle mixture over crackers. Seal container and turn over and over until all crackers are coated. Crackers are much better if they are allowed to set for a day; this allows the crackers to absorb all of the oil and flavoring.
BETH'S OLD FASHIONED PECAN PIE
INGREDIENTS
.

9" unbaked pie shell (or make your own pastry crust if you like)
. 3/4 stick unsalted butter
. 1 cup packed light brown sugar
. 3/4 cup light corn syrup
. 2 teaspoon pure vanilla extract
. 1/2 teaspoon grated orange zest
. 1/4 teaspoon salt
. 3 large eggs
. 2 cups pecan halves (about 1/2 pound)
. Whipped cream or vanilla ice cream (for serving; optional)
PREPARATION
. Preheat oven to 350°F with a baking sheet on middle rack.
. Melt butter in a small heavy saucepan over medium heat.
. Add brown sugar, whisking until smooth.
. Remove from heat and whisk in corn syrup, vanilla, zest, and salt.
. Lightly beat eggs in a medium bowl, then whisk in corn syrup mixture.
. Put pecans in pie shell and pour corn syrup mixture evenly over them.
. Place pie tin on a baking sheet and bake until filling is set, 50 minutes to 1 hour.
. Cool completely, even overnight, to make it easier to slice.
Enjoy and Be Thankful!