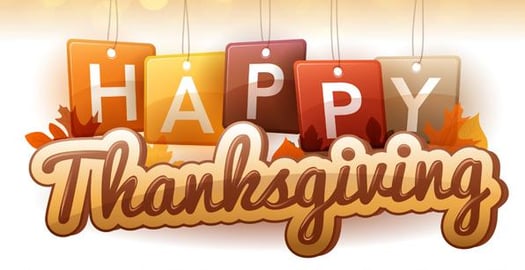 Isn't Thanksgiving the richest holiday? Whether you're on your way to your own Thanksgiving destination right now, or stuck in the office closing out the week,
we invite you to connect with our team at our virtual Thanksgiving Table HERE!
Get to know our vibrant group as they share what they are bringing to dinner along with photos of family this Thanksgiving! We and our families are so grateful for YOU this holiday season.
Sending you warm wishes of gratitude on this wonderful holiday!

* DELEGATE TEAM RECIPES *
KELLY'S CREAMY MASHED POTATOES
Ingredients
8 servings
4 lb. medium Yukon Gold potatoes, scrubbed
4 tsp. Diamond Crystal or 2½ tsp. Morton kosher salt, plus more
1½ cups whole milk
½ cup heavy cream
1 head of garlic, halved crosswise
3 sprigs rosemary
1 cup (2 sticks) unsalted butter, room temperature, cut into pieces
Freshly ground black pepper

SPECIAL EQUIPMENT
A potato ricer or food mill fitted with fine disk

Preparation
Step 1
Place 4 lb. medium Yukon Gold potatoes, scrubbed, in a large pot and pour in cold water to cover by 1". Add a large handful of kosher salt (water should taste briny, like the ocean) and bring to a boil on the stovetop over high heat. Reduce heat and simmer until potatoes are very tender but not crumbly, 30–35 minutes. Drain, briefly rinse with cool water to remove any excess starch, and return potatoes to warm pot (off heat) to dry while you heat the milk mixture.Step 2Warm 1½ cups whole milk, ½ cup heavy cream, 1 head of garlic, halved crosswise, and 3 sprigs rosemary in a small saucepan over medium until fragrant, about 5 minutes. Remove pan from heat.

Step 3
Pass hot potatoes through ricer or food mill into a large bowl (cold potatoes will become gummy). Add 1 cup (2 sticks) unsalted butter, room temperature, cut into pieces, and 2½ tsp. Morton kosher salt and stir until butter is completely incorporated. Strain warm milk mixture through a fine-mesh sieve into a large measuring glass. Pour into potatoes ½-cupful at a time, stirring after each addition until liquid is fully incorporated and mixture is smooth before adding more.

Step 4
Serve mashed potatoes topped with a few grinds of freshly ground black pepper.

Do ahead: Mashed potatoes can be made 1 day ahead. Cover and chill. Reheat over medium, stirring often and adding ¼ cup milk or stock to thin out if needed.
ALLIE'S GRITS CASSEROLE
1 1/2 cup grits
6 cups boiling water (unsalted)
3/4 stick butter or margarine
2 t salt
2 t savor salt
3 eggs (beaten)
1 lb grated cheese (sharp cheddar)

Add grits to boiling water and cook until done.

Add other ingredients to it and pour into a greased casserole dish and cook at 250 degrees for about an hour (may take longer in some ovens, cook until firm).

Enjoy!
PAIGE'S AUNT BETTY'S MAC & CHEESE
Boil macaroni in a small pk. Put in a 9x12 dish. Put 1/2 stick of butter in that, let it melt, and stir. In a thick boiler put 1 stick butter or margarine, melt. Add 2 heaping tablespoons of self-rising flour, on low heat, and keep stirring for about 2 minutes. To that add 4 slices of havarti cheese, 4 slices of Gouda cheese, 8 oz of cheddar cheese, 1 can of evaporated milk, and 1 1/2 cups of regular milk. Let all melt on low heat, and pour over noodles, you can add more cheese on top if you like, put in the oven until it bubbles. Enjoy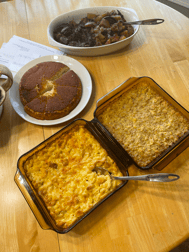 EMILY'S CAST IRON AU GRATIN POTATOES

Ingredients:

10 large Yukon gold potatoes thinly sliced
3 Shallots thinly sliced
2 cups Heavy whipping cream
¼ cup Melted butter
3 cloves Garlic minced
1 teaspoon Dried thyme
1 teaspoon Onion powder
1 teaspoon Sea salt
½ cup Cheddar cheese grated
½ cup Asiago cheese grated

Instructions:
-Preheat oven to 425
-In a medium saucepan, melt your butter. Once melted, add heavy whipping cream, garlic, and seasonings. Stir for 2-3 minutes until smooth.
-In a cast iron skillet, layer sliced potatoes and shallots.
-Pour the heavy cream mixture over the potatoes and shallots, and top with asiago and cheddar cheese.
-Bake covered for 30 minutes at 425°F. Bake uncovered for another 15 minutes. Broil on LO, if desired.

EILEEN'S SOURDOUGH BREAD STUFFING

Ingredients:

1-pound loaf sourdough bread

8 tablespoons butter

10 ounces cremini mushrooms, sliced 1/2-inch thick in both directions

Salt and freshly ground pepper

2 to 4 stalks celery with leaves, halved lengthwise and sliced

1 medium onion, chopped

About 10 sprigs fresh thyme, leaves stripped from the stems

10 to 12 fresh sage leaves, chopped

3 1/2 cup vegetable broth

3 tablespoons chopped Italian parsley leaves

Directions:

-Preheat the oven to 350 degrees F. Grease a 2-quart baking dish and set aside.
Cut or tear the bread into 1-inch cubes and spread it evenly on 2 baking sheets. Toast the bread in the oven until completely dry and beginning to crisp and brown, about 20 minutes. Transfer to a large mixing bowl.
-Melt 2 tablespoons of the butter in a large skillet over medium-high heat. Add the mushrooms and a few pinches of salt and saute, stirring occasionally, until golden brown, about 6 to 8 minutes. Add celery, onion, 2 tablespoons butter, and thyme. Once the butter has melted, cook, stirring frequently, until the vegetables have softened, about 5 minutes. Add sage and the remaining 4 tablespoons butter. Add vegetable broth to skillet and stir to combine. Season with salt and pepper, to taste.
-Transfer toasted bread cubes to a large bowl. Pour the broth mixture over the bread cubes and toss to combine until the bread cubes absorb the liquid. Pour the mixture into the greased baking dish, and sprinkle with parsley. Bake in the center of the oven until heated through and the top is golden brown, about 40 minutes. Remove the stuffing from the oven and allow to cool about 15 minutes before serving.


ANGELICA'S POSTA NEGRA CARTAGENERA / MEAT IN BLACK SAUCE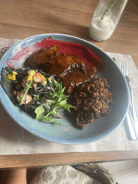 Posta Negra Cartagenera / Beef in black stew is a fantastic dish from the city of Cartagena in Colombia. Its name refers to the Colombian meat cut "Posta", the colour the stew gets due to the charring process, hence "negra" (Black), and the place it comes from Cartagena. So, basically, it means meat in black sauce from Cartagena.
Ingredients
0.6 - 0.8 kg Beef for stew "gryttekjøtt" in Norwegian hard meat that can stand long, slow cooking, prepped for stewing
Salt
Marinade


70 gr brown sugar
1 large onion roughly chopped
300-500 ml coca-cola
1 big red pepper roughly chopped
3 garlic cloves crushed
1 cube of chicken stock powdered
2 tbsp dried parsley
½ tbsp black pepper Optional: 1 tsp if you are not a big fan of spicy food
1 handful fresh cilantro roughly chopped
Splash of oil
To cook
1 tomato roughly chopped, optional
2 tbsp neutral vegeteable oil
Salt



Instructions




To prepare the marinate the meat


-Add all of the marinade ingredients reserving about half of the coca-cola in a big enough bowl that has a lid.
-Add the whole piece of meat, prepped and ready to be cooked, and then add more cocacola until it covers the meat, use some of the vegetables to cover the meat so the meat is completely submerged in the marinade.
-Cover with plastic wrap and lid and marinate for 2 days.



To cook


-Take out the meat from the marinade, dry and clean it as much as possible removing all vegetable and herbs.
-In the pot that you are going to slow cook the meat, cover the bottom with oil and sear the meat until charred all over. (Make sure to open windows and prepare yourself for a LOT of smoke)
-Add the marinade and tomato making sure that all of the meat is covered with liquid, if needed cut meat in larger chunks, bring to a boil.
-Reduce the temperature and simmer for 4 hours or until so tender it comes apart with a fork, turning the meat every 45 minutes.
-Take out the meat and let it rest, meanwhile blend the sauce and season with salt and pepper if needed. Once it has cooled, slice the meat into 2-3 cm thick pieces and put them back into the sauce, and let it simmer on low for 30 more minutes.
-Serve with arroz con coco (rice with coconut) and patacones

CATHY'S CRANBERRY BRIE BITES
Ingredients
1 sheet of puff pastry, thawed
1 wheel of brie cheese
1 cup cranberry sauce
Fresh rosemary leaves, for garnish

Instructions
-Preheat your oven to 400°F (200°C) and line a baking sheet with parchment paper.
-Roll out the puff pastry sheet on a lightly floured surface, and cut it into squares or rectangles, approximately 2x2 inches in size.
-Place the puff pastry squares in a muffin tin and top each one with a slice of brie cheese, followed by a spoonful of cranberry sauce.
-Bake in the preheated oven for about 15 minutes or until the puff pastry turns golden brown and flaky.
-Once done, remove from the oven and allow the bites to cool for a few minutes.
-Garnish with fresh rosemary leaves for a festive touch.
-Serve warm and watch them disappear within minutes!
Ingredients
1 can cream corn
1 can kernel corn, drained
8 oz. cream cheese, softened
1 stick butter, softened
1 box Jiffy Corn Bread Mix

Preheat oven to 375 degrees. Mix everything together. Spread in 8 x 8 baking dish and bake for 45 minutes or until browned.

EMILY MORGAN'S HONEYCRISP APPLE SANGRIA
Ingredients:
3 cinnamon sticks (plus more for garnish)
2 honeycrisp apples, chopped
1 orange, thinly sliced
1 (750 ml) bottle red wine (I suggest a light-bodied Spanish variety)
1 and 3/4 cups homemade apple cider or store-bought1
1/2 cup brandy
1/4 cup orange juice (or juice from 2 medium oranges)
juice from 1 lemon
club soda, to taste
Directions:
Place the cinnamon sticks, apples, and orange slices in a large pitcher. Add wine, apple cider, brandy, orange juice, and lemon juice. Allow to sit in the refrigerator for 6 - 24 hours. Taste; if you'd like it to be sweeter, add 1-2 Tablespoons granulated sugar, honey, or agave.
If you'd like a cinnamon-sugar rim (highly recommended), simply moisten the rim of your glasses with water, turn the glass upside down and dip it into a mix of cinnamon and sugar. Pour in the sangria with fruit2 and add a splash of club soda (this unsweetened fizz is wonderful with the sangria!). Garnish with a cinnamon stick, if desired. Cheers!
Make ahead tip: Sangria is the perfect make-ahead cocktail since it must sit for at least 6 hours. You can also make it one day in advance.
https://sallysbakingaddiction.com/honeycrisp-apple-sangria/

GEORGIA'S SAUSAGE AND HERB STUFFING

Ingredients:
16 cups 1-inch bread cubes, white or sourdough (1 1/2 pound loaf)
8 tablespoons (1 stick) unsalted butter
2 cups medium-diced yellow onion (2 onions)
1 cup medium-diced celery (2 stalks)
2 Granny Smith apples, unpeeled, cored and large-diced
2 tablespoons chopped flat-leaf parsley
1 tablespoon kosher salt
1 teaspoon freshly ground black pepper
3/4 pound sweet or spicy Italian sausage, casings removed
1 cup chicken stock
Directions:
-Preheat the oven to 300 degrees F.
-Place the bread cubes in a single layer on a sheet pan and bake for 7 minutes. Raise the oven temperature to 350 degrees F. Remove the bread cubes to a very large bowl.
-Meanwhile, in a large saute pan, melt the butter and add the onions, celery, apples, parsley, salt and pepper. Saute over medium heat for 10 minutes, until the vegetables are softened. Add to the bread cubes.
-In the same saute pan, cook the sausage over medium heat for about 10 minutes, until browned and cooked through, breaking up the sausage with a fork while cooking. Add to the bread cubes and vegetables.
-Add the chicken stock and cranberries to the mixture, mix well, and pour into a 9 by 12-inch baking dish. Bake for 30 minutes, until browned on top and hot in the middle. Serve warm.
https://www.foodnetwork.com/recipes/ina-garten/sausage-and-herb-stuffing-recipe-1943434
MACKENZIE'S GODFREY FAMILY MAC AND CHEESE-THE NOT SO SECRET RECIPE

Ingredients:
1 lb of elbow macaroni, cooked
1 lb or more of Colby cheese (good quality), thickly sliced
1 sleeve (or more) of Ritz crackers, crumbled
1/2 cup of milk
In 9x13 baking dish, crumble 5-10 crackers and spread them in the bottom of the pan. Then put a layer of cooked macaroni followed by a layer of Colby cheese. Repeat layers of crackers, noodles and cheese until all the ingredients are used. Finish with cracker crumbles on top. Slowly pour the milk over the top of the casserole, making sure to get it all over the top. Cover with foil and bake 30 minutes at 350 in the oven. Remove foil and bake an additional 10 minutes to let the top brown.
Note: Can be used as a main dish or as a side dish. Freezes well and is great leftovers. The more cheese the better in our house!
CHRIS'S GRANDMA OPLE'S APPLE PIE
8 small Granny Smith apples, or as needed
½ cup unsalted butter
3 tablespoons all-purpose flour
½ cup white sugar
½ cup packed brown sugar
¼ cup water
1 (9 inch) double-crust pie pastry, thawed
Directions
-Peel and core apples, then thinly slice. Set aside.
-Preheat the oven to 425 degrees F
-Melt butter in a saucepan over medium heat. Add flour and stir to form a paste; cook until fragrant, about 1 to 2 minutes. Add both sugars and water; bring to a boil. Reduce the heat to low and simmer for 3 to 5 minutes. Remove from the heat.
-Press one pastry into the bottom and up the sides of a 9-inch pie pan. Roll out remaining pastry so it will overhang the pie by about 1/2 inch. Cut pastry into eight 1-inch strips.
-Place sliced apples into the bottom crust, forming a slight mound. Lay four pastry strips vertically and evenly spaced over apples, using longer strips in the center and shorter strips at the edges.
-Make a lattice crust: Fold the first and third strips all the way back so they're almost falling off the pie. Lay one of the unused strips perpendicularly over the second and fourth strips, then unfold the first and third strips back into their original position.
-Fold the second and fourth vertical strips back. Lay one of the three unused strips perpendicularly over top. Unfold the second and fourth strips back into their original position.
-Repeat Steps 6 and 7 to weave in the last two strips of pastry. Fold and trim excess dough at the edges as necessary, and pinch to secure.
-Slowly and gently pour sugar-butter mixture over lattice crust, making sure it seeps over sliced apples. Brush some onto lattice, but make sure it doesn't run off the sides.
-Bake in the preheated oven for 15 minutes. Reduce the temperature to 350 degrees F and continue baking until apples are soft, 35 to 45 minutes.
ROBIN'S BROCCOLI CASSEROLE
2 - 10 oz packages frozen chopped broccoli
1 Tbsp. Chopped onions
2 Eggs, slightly beaten
1 can Cream of Mushroom Soup
1 cup Mayonnaise
1 cup grated sharp cheese
Crushed cheese crackers
Preheat oven to 350 degrees.
Cook broccoli in salted water for 5 minutes, then drain. Mix all other ingredients except for crackers. Stir in broccoli.
Pour contents into a shallow casserole dish and cover top with cracker crumbs.
Bake for 40-50 minutes.
LAURA'S RED HOT BAKED APPLES
6 apples
1 bag of Red Hots candy
water

Instructions
Peel and slice apples and add to a greased 9 X 13 (any size will work) baking dish.
Top with Red Hots candy.
For a mild cinnamon flavor add 1 cup of water, for medium cinnamon flavor add 1/2 cup of water. For full-on cinnamon flavor, add no water.
Bake for 45 minutes at 350 degrees, stirring the dish a few times to make sure the Red Hots melt evenly.
https://www.virginiasweetpea.com/red-hot-baked-apples/
TAYLOR'S CRANBERRY CREAM CHEESE SPREAD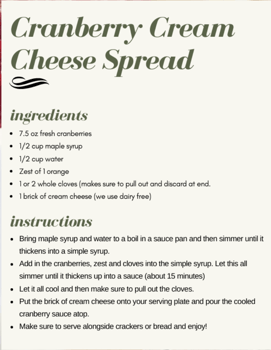 NATALIA'S BUFFALO CHICKEN MACARONI & CHEESE
**I've been making this so long that I measure with my heart! Especially when it comes to the garlic and hot sauce.**
7 tablespoons unsalted butter, plus more for the dish
Kosher salt
1 pound elbow macaroni
1 small onion, finely chopped
2 stalks celery, finely chopped
3 cups shredded rotisserie chicken
2 cloves garlic, minced
3/4 cup hot sauce (preferably Frank's)
2 tablespoons all-purpose flour
2 teaspoons dry mustard
2 1/2 cups half-and-half
1 pound yellow sharp cheddar cheese, cut into 1-
inch cubes (about 3 1/2 cups)
8 ounces pepper jack cheese, shredded (about 2
cups)- Sometimes I sub Monterrey Jack
2/3 cup sour cream
1 cup panko (Japanese breadcrumbs)
2 tablespoons chopped fresh parsley
Directions:
-Preheat the oven to 350 degrees F and butter a 9-by-13- inch baking dish. Bring a large pot of salted water to a boil; add the pasta and cook until al dente, about 7 minutes. Drain.
-Meanwhile, melt 3 tablespoons butter in a large skillet over medium heat. Add the onion and celery and cook until soft, about 5 minutes. Stir in the chicken and garlic and cook 2 minutes, then add 1/2 cup hot sauce and simmer until slightly thickened, about 1 more minute.
-Melt 2 tablespoons butter in a saucepan over medium heat. Stir in the flour and mustard with a wooden spoon until smooth. Whisk in the half-and-half, then add the remaining 1/4 cup hot sauce and stir until thick, about 2 minutes. Whisk in the cheddar and remaining cheeses, then whisk in the sour cream until smooth.
-Spread half of the macaroni in the prepared baking dish, then top with the chicken mixture and the remaining macaroni. Pour the cheese sauce evenly on top.- **Sometimes I just mix the chicken mixture all through the macaroni, depends on how I'm feeling that day.
-Put the remaining 2 tablespoons butter in a medium microwave-safe bowl and microwave until melted. Stir in the panko, parsley. Sprinkle over the macaroni and bake until bubbly, 30 to 40 minutes. Let rest 10 minutes before serving.
DANA'S SPICY CRACKERS
Ingredients:
1 Box of saltine crackers
3 Tablespoons of dry Ranch dressing (the envelope)
1 teaspoon cayenne pepper
1 1/2 teaspoon of garlic powder
1 cup canola oil
Container with sealable lid.
Place crackers in the sealable container. In a separate bowl, whisk together canola oil, ranch seasoning, cayenne pepper, and garlic powder. Drizzle mixture over crackers. Seal container and turn over and over until all crackers are coated. Crackers are much better if they are allowed to set for a day; this allows the crackers to absorb all of the oil and flavoring.
Enjoy and Be Thankful!