HELLO | TWELVE, MAY 2022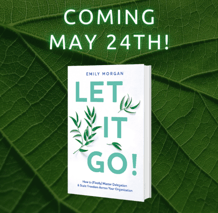 Happy Friday and welcome to a super exciting month! This month marks my birthday, the sale of my home, AND my first book launch! With so much going on and the busyness of all of the WHAT, it can be really easy to disconnect with our WHY.

They say writing a book is alot like birthing a child, and I would have to agree. Getting it finished has been one of the most disciplined activities I've ever had to do, simply because it requires sustained creative engagement, followed by sustained follow-through. Remaining connected to MY WHY of helping others create more freedom to do what they love and have a big impact has kept me focused and on track.

I love to write, and often joke that it's the only part of my degree from UPenn that I ever use in my work, writing tons of blogs, articles, and other content over the years. That said, I know that what I am putting out into the world will create value for people I may never get to meet. It will expand the reach of our message that delegation is the foundation for exponential growth. And, when we can master it and then get our teams to master it, we become unstoppable and can create incredible impact. Can't wait to share this fresh take on delegation, why we struggle with it, how to think about it and how to scale it in your companies! Look for it at the end of this month.