DS Client Expert Chat: Entrepreneurship & Sexual Compulsion
Our client JK Emezi, founder of Elevated Recovery, joined us live on Facebook for a 10-minute expert chat and we spoke about his experience working with us and how we've been able to help his business. He also shared about his work helping entrepreneurs who struggle with sexual compulsion.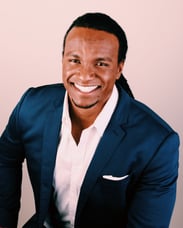 J.K. Emezi, founder of Elevated Recovery, and is a Certified Life Coach through the World Coach Institute and completing certification as a Certified Addiction Recovery Coach (CAC)
In addition to that, he is certified as a Sex and Pornography Addiction Counselor (SPARC). J.K. is the creator of Porn Reboot (TM) , one of the most sought-after online recovery courses for men struggling with porn and sex addiction.
For the past 6 years, J.K. has helped men regain control of their sexual lives, recover fully from porn addiction, overcome sexual and social anxiety, improve their relationships and lead fulfilling lives.
If you are looking for an effective way to increase your productivity and leverage your time, delegation is a great place to start! At Delegate, we love helping busy leaders and their teams focus on what they do best and add valuable time back to their lives.