LEARN | TWELVE, JUNE 2019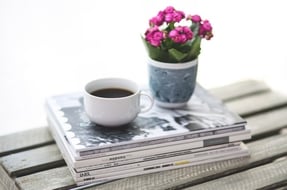 I recently listened to a lecture about turmoil in life. We all have it. We all hate it.
The person giving the lecture walked into the room with a glass of water. He proceeded to shake the water in a circular motion within the glass explaining that this is how most of us feel - how most of our brains are functioning right now. Constantly thinking…constantly juggling a million priorities…. constantly adding to our lengthy list of what's next and all of the things we have to do to get there.
This constant stress can be felt both personally and professionally. "I'm one big sale from stability in my life" OR "I just need help in these areas to achieve my goals" OR "If my children would only listen to THIS, things would be so much easier!".
As entrepreneurs and business-driven individuals, you are always going to be working towards what is next – and that drive is something you likely take pride in, value, and has ultimately helped define your success. But that passion & drive does not have to feel like turmoil or cause unneeded stress and/or anxiety in your life.
It is our job at Delegate to help you find the still. To help you master the art of delegation – helping you let go enough to create a balance in your life that feels right. Whether that is spending more time with family, pursuing hobbies, or focusing more on the aspects of work that you truly enjoy the most.
The lecturer left us with a thought…when that water in your life is in turmoil, try this exercise: take five slow, deep breadths to get centered. After two, the breaths start to become disruptive to your inner self – you get a little annoyed and want to move on to something else – but don't. This exercise will allow you to refocus and think about what will help you find the still.
Contributed by our Team Member, Liz