How Much Time Can an Executive Virtual Assistant Really Save You?


Contributed by our Team Member, Mackenzie
Knowin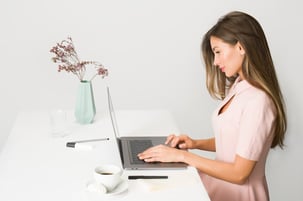 g that an Executive Virtual Assistant at Delegate Solutions can help with various administrative tasks is the first step in really understanding how much time an executive virtual assistant can save you.
Inbox management, scheduling meetings, coordinating travel and trips (for business and pleasure), and creating & implementing processes to the daily, weekly, and monthly items within your business are the most easy to relate to.
Let's take a look at just your email. According to Forbes Magazine, an entrepreneur spends about 2.5 hours a day in their email. That's over 12 and half hours a week. You might be thinking "What am I doing in there?"
Well here are some other statistics to think about:
You write an average of 40 emails per day

The average employee will check their email 36 times an hour.

It takes some people 16 minutes to refocus after handling incoming email.

It can take as much as 23 minutes to recover from any distraction at work, including email.




When working with Delegate Solutions, our executive virtual assistants can help sort through, and respond to those emails by using processes, created as a team, to help take over some of that communication. We work with our clients to form repeatable tasks that can help organize and take over that email that may be overwhelming.
Now let's take a look at your calendar. Maybe you have to schedule meetings with clients and other team members, maybe you have a system, maybe you don't and maybe you don't believe in calendars at all. No matter which of those just described you best, Delegate Solutions is here to help. Executive Virtual Assistants can be the person going back and forth between clients and team members to organize the meetings that need to occur. We also keep boundaries on your time, so you don't have to be the "bad" guy. Yes, we say no for you! In addition to being the gatekeepers of your time, we can help you carve out those times to really focus on what needs to be done, for business or pleasure. No matter what your calendar looks like now when you have a virtual assistant from Delegate Solutions, you will most certainly have more time in your schedule for doing the things that you enjoy.

One last thing that makes Delegate Solutions stand out from the rest is the creation and implementation of processes specific to your business. We aren't your typical virtual assistant. We are constantly looking for ways to make your life easier and automate items to make things work systematically and efficiently. One specific way we can do this is by helping conduct performance reviews. Setting up surveys for employees to complete and then gathering the data and presenting it to you in a way that is helpful will save you hours and maybe even days each month/quarter. Another process that many clients find helpful is project management. We can help create systems of accountability to monitor status and track delays. Knowing that a project is on track, who is doing what, and what is missing can be a huge relief to any entrepreneur.
How much time a virtual assistant saves you will vary on how much you are willing to delegate out. I think it's safe to say on the three topics discussed above that at the very minimum 5 hours a week of your time was just saved! With those 5 extra hours a week, maybe you can bring on another client, expand your team, or ….dare I say it….take time doing something you love AWAY from work! One client said the following "(Delegate was) able to break out parts of our process that could be systematized and delegated off-site. Their keen insight into the nuances of the remote support work model was a unique value-add. This shift equated to an annual salary savings of $120,000." What would you do in your business with an extra $120,000 laying around?!?