HELLO | TWELVE, jUNE 2019
TGIF, Happy Friday! I am back in the office t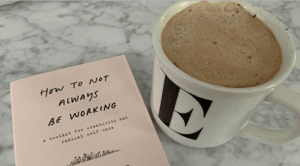 his week, fresh off a 3 week sabbatical-- my first! It was quite detoxifying and I am happy to report it was also a success. Thanks to a lot of planning, delegation and accountability, I was able to completely step away from running my business for three whole weeks and watch it run without me... and nothing blew up! It was divinely indulgent. Want to do the same?

Below are my tips to make this happen:
Step 1: Shift Your Mindset-- Perhaps the most important first step is to be honest with yourself around whether your company is in the position to run without you and how you would feel if it actually could. My level of confidence around doing this comes from over 5 years of working on my own entrepreneurial mindset through the Strategic Coach program. Coach teaches entrepreneurs HOW to create a "self-managing" company. Their tools and concepts helped shift my own thinking about how I could extract myself from the daily operations of the company and set it up to run mostly without me. This is liberating stuff for entrepreneurs, and can also be scary when our identities are so tied to our companies.


Step 2: You Gotta Have the Accountabilities in Place-- Of course here at Delegate we LOVE delegation. :) We eat, sleep and breathe it so I have a slight advantage on the delegation piece, since pulling myself off of repeatable tasks is part of my weekly routine. BUT, tasks aside, being able to fully step away means that others have to be empowered and trained to manage and run the company, which far exceeds task level responsibilities. Our solution here as been EOS® (the Entrepreneurial Operating System). This system allowed us to create critical things like Accountability Charts and a Leadership Team which creates ownership over key parts of the business, along with alignment around where the company is going and how we will get there. Clarity at this level eliminates the fear of time away, because the team is already empowered, aligned and owning their seats. My team made staffing decisions, hired, closed business and launched new clients all without me "managing" any of it.

Step 3: So, What Will You Do With Your Free Time-- It's a bit like what retirees must feel when they actually retire.. now what? A sabbatical is NOT meant to be a vacation-- travel is quite different. On my sabbatical, I did not travel, I did not work, check email, take calls, nada. I simply re-charged, read, meditated, worked on projects around my house, spent more time with my son, exercised, cooked for my fiancee, wandered around Rittenhouse Square, and spent alot of time checking in on myself. I would encourage you to NOT have a plan and just enjoy and savor the downtime.

I would also recommend that you are thoughtful about when you plan to take the time. I planned this out several months ago so my team was prepped for it, no meetings were scheduled or travel. I already have scheduled this for next year just to protect the time. They kept a list of what went wrong, so that we could address it when we got back, Experience Transform and tweak for next time. If this is something you want to do for yourself, I'm happy to share my experience more deeply, just reach out and we can find some time to connect.
Have an awesome month!
Emily