LEARN | TWELVE, SEPTEMBER 2019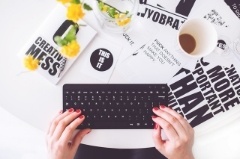 When it comes to decluttering your work life, I always like to start with my email inbox. There is nothing more overwhelming than a cluttered inbox where the important is mixed in with all of those junk emails you never read.

Lets face it, half of what comes into your inbox you probably delete without even opening! OR you leave it in there for fear of deleting something important and actually end up missing the true important stuff.

I like to keep an inbox of a rotating 5. Thats right FIVE emails! Here are my tips and tricks on how to clean up that inbox, make sure nothing gets lost, and relieve that inbox stress immediately.
Create folders
Anything thats important to keep for any period of time. Client communication, children's school information, travel info, receipts, etc. Create a folder for each and every one of these. If it needs to be saved, it MUST be in a folder. Then search your inbox for these items and pull them all into their respective folders. (Click here to learn how to create folders in Gmail.)


Get rid of the old
Once everything is pulled into its respective folder, go to your oldest email. Then start to archive away! I have seen countless inbox's with emails from 10 + years ago. We all think we need them, but do we? Remember, if we need it it goes into a folder. Archive everything up to the current month or two. Archive is NOT deleting so if anything ever gets archived you can find it again. (Click here to learn how to archive in Gmail.)


Create an unsubscribe folder
Create a folder called UNSUBSCRIBE. Anything that comes to your inbox that you no longer read you will pull over to this box. This gets it out of your inbox so its not cluttering everything up. Then once a week set aside some time to go through and unsubscribe. Its amazing how good it feels to get rid of the emails you never read!


Create Labels and use symbols
Now that you have significantly cleaned up, go through the last month or two that you kept and read every email. If it needs to be kept, but has no action, put it into a folder. If it requires action on your part of someone else's, here is where I like to make things SO much easier. By creating labels and using symbols you can quickly see what needs to be done and where you are in the process. ANYTHING that stays in your inbox should have a label or symbol otherwise it doesn't belong. I will symbol something with a ⭐ if its important for that day or the following. I will use a ❗ if it requires me immediate action. You can use any of the symbols you want, but I suggest making yourself a key in Google Keep for reference. Labels are my favorite way to stay organized. I use the following, but you can create anything you want that is helpful. Then you tag the email in your inbox with the respective label.
Waiting on response - This lets me know I responded, but I am waiting for the other person to get back to me
Needs follow-up - This let some know that I need to follow up or respond
Needs scheduling

- This lets me know that I need to schedule an appointment or event
Once the emails in your inbox have been completed, they go to a folder or get archived. (Click here to learn how to create labels in Gmail.)

Delegate it!
One of the easiest ways to declutter your inbox, reduce stress, and make sure you never miss a thing is to delegate your inbox. Finding someone who is extremely organized, understands inbox management, and has an attention to detail can help you manage your inbox on a daily basis. Its simple to delegate your inbox to anyone, by following the steps here. Delegating your inbox to an assistant frees up your time to focus on the things that really matter in your business. Income producing activities! You can also read this article on how delegating your inbox can give you more time back in your day.


I am telling you, nothing feels better than opening your inbox and seeing only a few emails. Give yourself some time and patience as it takes a bit to get the initial decluttering down, but I promise if you follow the steps above you will be living a stress free inbox life soon!
Contributed by our Team Member, Tara