HELLO | TWELVE, JUNE 2022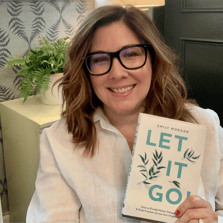 Happy Friday! What a whirlwind month it's been! Just wanted to say thank you to all of my great friends and followers who have supported me and helped me make Let It Go! such a success.
The early reviews are in, and the dreams that I had for it are manifesting before my eyes thanks to your support. I'm reading feedback like, "Emily has written a masters class thesis on the traps of delegation and how to break through to freedom," and "I expect this book to become a classic work that will help business owners delegate for decades to come." Just WOW!

You'll see I dedicated the book to my son Nathan (of course!), but also to my old boss, Joe Sun. I count Joe as someone who changed the trajectory of my life for good. He was the first real "boss" that I had as a FT admin some 20+ years ago, and my conversations with him over the years, shaped my early thoughts on delegation (long before I started DS!). In the spirit of "it takes years to be an overnight success," check out this fun throwback video he and I did for the local news in Philly when I was first getting started, and he went from boss to client. It's worth the watch just to laugh at my haircut! LOL! Thanks again to everyone who has supported my journey thus far, I am ever grateful!