HELLO | TWELVE, AUGUST 2019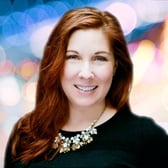 TGIF, Happy Friday and hello from the coast of North Carolina, where a group from Team Delegate has assembled for our annual retreat. Given that we are a 100% remote, distributed team, this year's retreat is really exciting for us because we have the opportunity to spend face time with the members of our NC contingent of Delegate.

This month I've been thinking a lot about commitment. It could be because my fiancee and I just added another dog (third!!) to our family that commitment is heavy on my mind! Or, perhaps it's my own personal evolution of hanging in there even when things are not "perfect" because I made a commitment to do so. Either way, honoring our commitments is not always the easy choice, but it is a mindset shift that brings with it personal growth, stability and consistency.
In my work with entrepreneurs, I see three types of commitment mindsets. The first operates as the "Hero."This mindset needs to control, to save the day, and refuse to trust and release control because they seek perfection over progress. They burnout, stunt growth and treat everything as an emergency because they've run out of time. They simply aren't willing to do modify their own behavior, habits and mindset to make an impactful change.
The second commitment mindset is the "Hunter" -always in search of a quick-fix. They love the idea of fresh starts, of trying new things, and are always on the hunt for something "better," even when something they have is already working "good enough." They are willing to make certain behavioral changes, but get distracted by shiny newness and can't sustain the changes. The start and stop mentality prevents positive habits from settling in and feeds the need to disrupt, but in a very unproductive way.

The third type is the in it to win it, the "Hunker Down" mindset. They bring the discipline and recognize that even when things get hard, different and new isn't always the better choice. They understand how their own commitment to seeing things through represents the largest part of their success, and that progress is more important than perfection.

If you struggle with commitment, or find yourself being the bottleneck towards progress, check out our Bottleneck Diagnostic tool. The quick quiz helps you identify which type of bottleneck behavior is occurring and why, and what you can do to clear it from your business.


Have an awesome month!