HELLO | TWELVE, MARCH 2022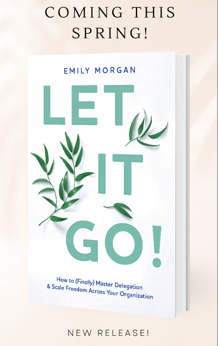 Happy Friday and welcome to the start of Spring (barely, here in Jersey!). It's been an exciting quarter for us here at Delegate, with even more awesomeness on the horizon. One of the things I'm personally most excited about is the upcoming launch of my first book, pictured here! -->

Writing this book from concept to print will have taken me about a year. I worked with a great company, Scribe to help me tackle this project. Their program has been very helpful and allowed me to focus just on my content. I expect to have it in hand, just in time for my birthday in late May! We will share more around how to get a copy over the next few months.

With the book coming out, I've been getting alot of questions about what I learned during this process. Below are a few key takeaways:
It takes as long as it takes. In my writing cohort, we have one published author already and others who haven't yet turned in their manuscript. I got through mine quickly by mapping out a timeline that matched my launch date. I arranged my schedule so I would have at least two solid writing days each week to focus. If you are a procrastinator, I highly suggest giving yourself milestones and timeline to keep on track. I started writing it last May, and turned it in for editing by October.

Your concept and the overall direction of the book may change. For example, as I wrote the book, the title was, "A Culture of Delegation." It wasn't until we were working on cover concept that I worked with a title expert to re-explore whether it was the right title. This was a big shift to go through as a writer who was connected to the title, but now seeing it all come together I think we nailed it.

The editor really did make it better. I have an English degree from an Ivy League college, and think of myself as a pretty strong writer. But, my experience with this part of the process showed me why editors exist- to make writer's work better. They were able to take my format and make it flow better into a much more cohesive, compelling story. Still my words, just better organized!
Can't wait to share this fresh take on delegation, why we struggle with it, how to think about it and how to scale it in your companies!