Top 5 Myths about Virtual Executive Assistants


Contributed by our Team Member, Tara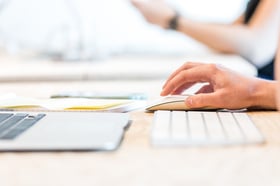 The word Virtual Assistant may be somewhat of a new term for you. Not too long ago, most of us were going to our office jobs, meeting with people face to face, and even shaking hands. Fast forward to today and it's rare to hear of anyone going into the office to work. "Remote" has quickly become the way of the workplace.
It's now the Virtual Assistants' time to shine! Many businesses have closed their physical offices and are looking for a way to have the strategic support they need but from afar. When you think about a Virtual Executive Assistant lots of things may come to mind, and many of them may just not be true. While there are a plethora of myths about us out there, I thought I would focus on 5 of my favorites.
Myth #1 Anyone can be a Virtual Executive Assistant
Virtual assistants are not for the faint of heart. And I don't say this just because I am one. Not only do you have to have strong organizational, communication, and strategic thinking skills you also need to be able to hang with some pretty powerful entrepreneurs with some pretty powerful personalities. The strong make it in this business, along with your sense of urgency and ability to take complex situations and simplify them. Being able to turn your focus on a dime, pull apart processes, and make someone else's life easier, all while ordering anniversary flowers isn't a skill most have. At Delegate Solutions, all Virtual Assistants undergo training and are Delegate Certified before taking on any client tasks.
Myth #2 Virtual work isn't the same quality as an in-house assistant
The only thing a Virtual Executive Assistant cannot do is pick up your morning croissant. It may feel strange at first, but we can manage all the same tasks someone in person could handle. Working virtually removes us from the normal distractions an office can bring, and allows us to focus strictly on your needs. Virtual Executive Assistants tend to work faster and more efficiently. We pride ourselves on quality work, done the way you like it, in a timely manner. In most cases, we guarantee a 24-hour turnaround time on tasks!
Myth #3 Small companies don't need Virtual Executive Assistants
It may seem to most that virtual assistants are for larger companies with tons to delegate and not for smaller or solo entrepreneurs looking for a better balance. Virtual assistants are for anyone of any size! Anything that is taking you away from income-producing activity and doing your most meaningful work is what you should be handing over to us. Some things may seem mundane, but the small things always compound into lots of time not spent on growing your business. I personally love working with solopreneurs. It feels great to watch someone's life free up and their business flourish in ways they didn't imagine possible.
Myth #4 Virtual Executive Assistants can only do administrative work
Some people think of a virtual assistant as a strict admin, but that is very far from the truth. Virtual Assistants can handle a long list of tasks and support your business in a myriad of ways. Here are just a few of those ways:
Inbox and calendar management
Social media management
CRM and sales support
Proofreading
Gatekeeper scheduling
Creating standardized processes and workflows
EOS management
Strategic Coach support
Expense management
Process improvement
Travel coordination
Myth #5 A Virtual Assistant doesn't save you any money vs. an in-house person
Many business owners & entrepreneurs assume that they can't afford a virtual assistant as opposed to having someone on-site, but think again! In general, virtual executive assistant services can save businesses money. There are no extra benefits packages for VAs since they're not employees of your company, and you won't have to buy them a computer or pay for their office space. This can cut your labor costs significantly. Additionally, most Virtual Executive Assistant services, like ours, allow you to start with a small package and scale up as you grow your business.
As you can see some of the things you may have heard about virtual executive assistants just aren't true. At Delegate Solutions we have watched hundreds of entrepreneurs' lives be changed with our proven systems and yours could be too. As remote work continues to be the norm, virtual assistant services will only continue to become more popular and offer more premium services. To learn the difference between standard Virtual Assistant services and premium Virtual Executive Assistant services, check out our comparison chart here.