LEARN | TWELVE, FEBRUARY 2020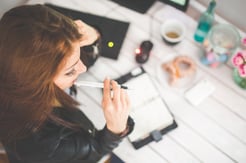 We all enter the New Year with resolutions and are hopeful to achieve them, but as the year progresses we usually get stuck on how to actually make them come to fruition. Here are a few tips to make sure that you are accountable for your New Year's Resolutions:
1. Pick a maximum of two to three resolutions. Be realistic and don't overwhelm yourself with goals. If you pick the top priorities your goals will be more attainable.
2. Write your resolutions down and have them in an area that you can easily reference. When your goals are written down you will be able to refer to them and it is a constant reminder.
3. Include steps on how to achieve your goals and check off each step as you complete them. If you see yourself making progress it will help you to keep moving forward. For example, if you are looking to have a better work/life balance you can include activities that you would like to do such as working out a few times a week and planning a night out. You then can block off some time on your calendar to set this time aside.
4
. Tell someone your goals and have them make you
accountable
. If you actually verbalize your goals you have accountability and will be more likely to motivate. Schedule check in times with them at certain points throughout the year to make sure that you are on track
5.
Reward yourself for each resolution that you complete or even the steps toward each resolution that you have accomplished.
We are looking forward to a successful 2020 of everyone achieving their goals and resolutions.
Contributed by our Team Member, Alissa