Taking the Team Approach | Virtual Assistant 102


Contributed by our Team Member, Stephanie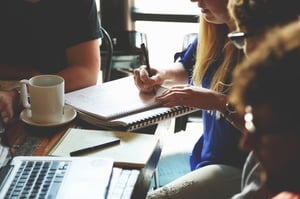 Choosing the best virtual assistant services can be a taxing chore when you are already at capacity with running your business. You can search for applicants by using places such as Indeed or you can hire a reputable and successful business who can match you with the right virtual assistant or team of virtual assistants.
Companies such as Delegate Solutions prides itself on the ability to match a team of virtual assistants with a client that will fit both his or her needs and style and delivers a magnitude of skills and strengths with multiple specializations, such as project management, back office support, strategic support, and business process improvement amongst others.
To Be Single or To Be a Team, That is the Question

When determining the best approach for your business you have an option of a single virtual assistant or a team of virtual assistants. There are pros and cons to both of course but reviewing the business needs of the present, the business goals of the future and expected growth, a team of virtual assistants, one who is specially skilled in strategic thinking and project management and the other skilled in the implementation of critical daily tasks, can substantially alter the ability to accomplish important and critical business needs.

Strength is in Numbers
The greatest advantages with a virtual assistant team is the communication between the team members, wherein the high probability of high-performance increases. When a virtual assistant team runs meetings, they are high-impact, efficient, and effective. The virtual assistant teams at Delegate Solutions are trained and highly skilled in meeting facilitation seeking to maximize the use of the client's time to discuss meaty issues while looking forward to how they can make an impact and provide greater success to the client. The team is provided in-depth training on technology and administrative tasks, and they make the best use of all video conferencing systems such as Zoom or GoToMeeting and use other tools for online collaboration with themselves and the client.
The Best Approach is a Team Approach
If you think of the corporate world and the assistant to the executive, what occurs when that assistant is out on leave? Whether it is a holiday, vacation, or an illness, they are away from work but the work doesn't stop. It continues to pile up and get behind. With a team approach, like Delegate Solutions, you get the best of all worlds. You are resourced with an experienced, knowledgeable team of virtual assistants who back each other up when one is away, that way the work is always covered and tasks are always progressing forward. When reviewing your business support services, processes, and goals and the need arises to find the best virtual assistant team who can help support you, look to companies like Delegate Solutions who offer the team approach to help relieve your business of the day-to-day tasks while providing process efficiencies and improvements so that you can grow successfully and achieve your goals.