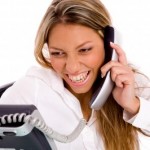 Maintain that personal touch connection with your clients and customers, even when you're not at your desk! When a customer or client callsyour business you want that friendly smiling voice on the other end to make them feel welcome and important. Here are a few options with features that do just that!
• Choose your own number (either pick a new one, or use your cell)
• Have your voicemails emailed right to you (with transcription!)
• Ring your computer and your phone
• Set up a series of several numbers to work as a hunt group
• Select auto-answer/screening, or turn this feature off
• Select a toll free or local number
• Unlimited extensions
• Call forwarding
• Voicemails via email and manage online or by phone
• Record custom greeting, add departments / employees, get calls, voicemails, and faxes anywhere you are.
Check out these other great options too: Onebox & EVoice