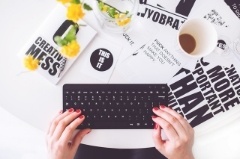 When it comes to decluttering your work life, I always like to start with my email inbox. There is nothing more overwhelming than a cluttered inbox where the important is mixed in with all of those junk emails you never read.

Lets face it, half of what comes into your inbox you probably delete without even opening! OR you leave it in there for fear of deleting something important and actually end up missing the true important stuff.

I like to keep an inbox of a rotating 5. Thats right FIVE emails! Here are my tips and tricks on how to clean up that inbox, make sure nothing gets lost, and relieve that inbox stress immediately.