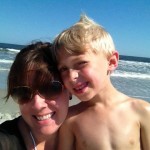 Happy Independence Day-- or as we entreps like to think of it, "Independent's Day!" July 4th represents what entrepreneurship is all about-freedom! Freedom to try new things, to create something beautiful from nothing, and freedom to just be as awesome as you want! Most importantly, freedom to spend our time as we like. As the days and weeks continue to fly by, it's easy to get lost in the momentum of it all; easy to lose track of our visions and goals both professional and personally. This is where being intentional with how we focus our energy becomes critical.
"Intentional" simply implies that purposeful planning is involved. While this may be clear in our professional lives, it's just as important in our personal lives. For me, since I only have one child- Nathan (pictured to the right) I'm constantly thinking about how quickly he is growing up-- he's 6 already! As the time is flying I'm working hard to be intentional with our time together. We spent
some time this past week creating our "Summer Bucket List". A lengthy list of all the things we want to accomplish this summer, including: teaching him how to ride a 2 wheeler, learning how to play dominoes, going lobstering and even writing an illustrated book together about our 2 cats! Take care to use all of your time in a way that will help achieve your purposes.