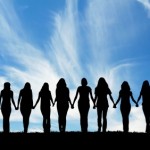 "We make a living by what we get, we make a life by what we give."
- Winston Churchill
At Delegate, we believe that the power of one is expanded by the strengths of many. Our mission is to help you do more of what you love to have an even stronger impact on the world.
It is this passion for helping others that drives us internally as a team as well. Each month in addition to our team-wide contribution to our selected charity, Women for Women International, we select one team member and also support their favorite charity through donation and promotion.
Emily W (pictured on the right with her family) is our winner this month, and she chose to donate to Make a Wish Foundation. Here's why:
"When shopping or going out to eat, I seldom times am asked at the checkout if I want to donate to a foundation or charity, or if i want to help a kid graduate etc. I always say yes. I always feel I can help others even if its just a little. I appreciate you doing this for the company and our team!
That being said... I would like to donate to the Make a Wish Foundation.
It's simply amazing to see a kids face light up when their wish is granted. Like a fairy tale, the Make a Wish Foundation helps children and follows through with their actions. No better feeling of satisfaction than making a kid smile! :)"
A bit more about this awesome charity…
Make-A-Wish® grants the wish of a child diagnosed with a life-threatening medical condition in the United States and its territories, on average, every 38 minutes. We believe that a wish experience can be a game-changer. This one belief guides us. It inspires us to grant wishes that change the lives of the kids we serve.
.....
"If you want happiness for an hour, take a nap. If you want happiness for a day, go fishing. If you want happiness for a year, inherit a fortune. If you want happiness for a lifetime, help somebody."
- Chinese Proverb