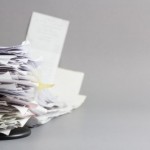 Who doesn't despise all those pesky receipts and searching through tons of paperwork to find the right expense when it comes that time of the year? Here are a couple examples of cool virtual receipt tools we use with clients to help keep yourself and your wallet a bit more organized.
Expensify – Plainly stated, expense reports that don't suck. Expensify lets you lose the paper receipts while never having to type detailed receipts again. There is unlimited storage and an auto-association tool that connects the receipts to your expenses. Expensify is a free tool that also carries expense reports, administration, compliance, mobile features, and seamless integration. Includes a free mobile app and even captures mileage!
Shoeboxed – A super-fast and simple way to turn your pile of receipts into digital data saving you time, money, and hassle. How you say? Simply send Shoeboxed your receipts, business cards, bills, or other documents via mail or email and everything will be carefully sorted and scanned into a secure account. All data is organized, including an IRS accepted image of each document, and then human-verified, categorized, and ready to access from anywhere to export into dozen of tools.