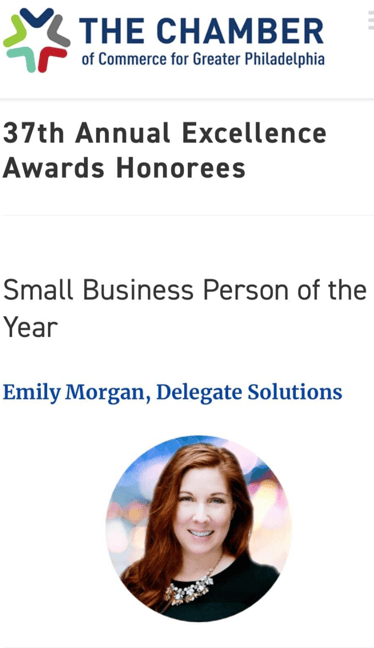 We are excited and honored to share that our Founder + CEO Emily Morgan won the Philly Chamber of Commerce Small Business Person of the Year Award! We invite you to join us at the celebration:
Thursday, November 21, 2019
5:30 – 9:00 p.m.
SugarHouse Casino


We are super proud and humbled by this win, and while it's a big deal to us, even more importantly this is an incredible win for the flex & remote work movement. Delegate was created to operate as a 100% remote and flex work company.
We are proud to be ambassadors for a changing workforce. We will use our win as a platform to validate flexwork, and will continue our commitment to help reshape the culture of the traditional workforce into one that values quality and contribution over time spent behind a desk. Thanks to everyone who has helped us achieve this incredible award! We look forward to sharing it with you over the coming months.